American Kenpo Karate
3030 El Cajon blvd
San Diego, Ca
Ph # 619-283-6596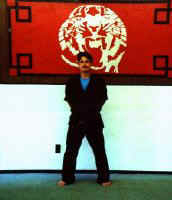 Todd McElhinney
Head Instructor and Owner
Todd has become the Owner and Head Instructor at the very same school he started his martial arts training 20 years ago. Many Blackbelts have come and have gone their own way. But Mr. McElhinney has kept the school going, teaching 6 days a week 8 to 10 hrs a day and still finding the time to train and compete. Its very hard but some how Todd does it all. He's made place for a lot of the Older Blackbelts where they can come together and train on their Katas, Sparring, and Technique. As well as being a successful businessman Todd has been one of the top competitors in Karate Tournaments for some 15 years or more.
The Wild Bunch
Above are GrandMaster Dick Willett's 1st, 2nd, 3rd, 4th and 5th generation Black Belts. I hope no one gets offended because I can't remember everyones name. But here are a few names that I do remember in the picture above. Joyce Libert, Terry Crook, Kimko,Scott Richardson, John "Big T", Turnage, Dave Hayes, Robert "Foots" Sumler, Dick Willett, Craig Swanson, Rey Leal, Cha Che Leal, Tony Crisotomo, Frank Mafnas, Doug Arcindino, Tidwale, Andy Selcer, "Breeze", Patty Mcklintock, Fred Pablo, Orned "Chicken" Gabriel, Donna Malloy, Todd Mc Elhinney, John Tran, and one the first BlackBelts under Dick Willet bottom right, "Big Brother" Mike Roberts.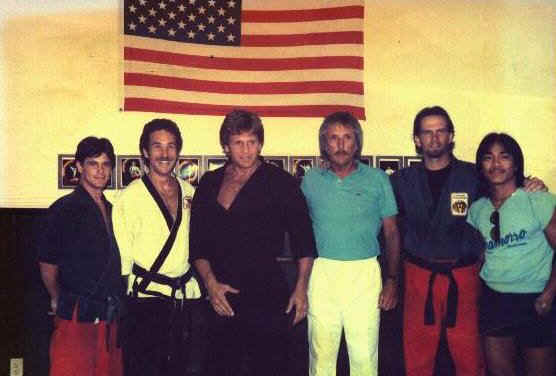 left to right
Todd McElhinney, Ervin Hoffman, World Champion Joe Lewis, GrandMaster Dick Willet, Dave Hays, Frank Mafnas.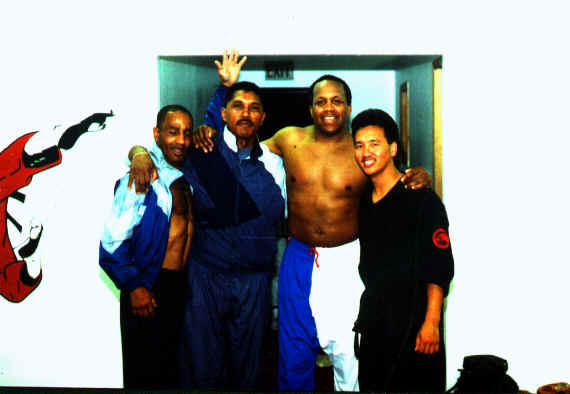 "Chicken" Gabriel, Rey Leal, Steve "Nasty" Anderson, "Sweet Pete Salas"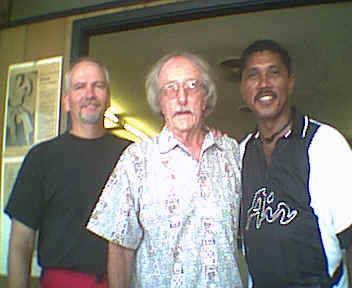 Dave Hays, GrandMaster Dick Willet and Rey Leal
Las Vegas Gathering of Eagles August 11, 2001
"You're gonna Love this"
Jabbarwocky Club
AKA
"American Kenpo Karate San Diego Black Belts"
Long Beach International Karate Championships Photos