Siu-Fong Evans: Founder of San Diego Taiji & Qigong Association.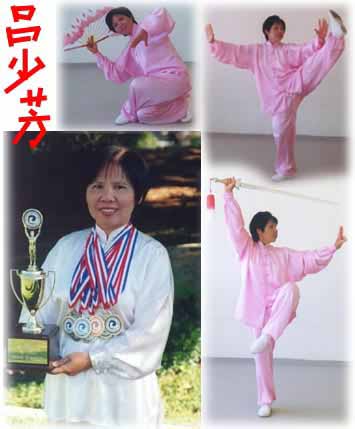 San Diegan Siu-Fong Evans Wins Big in International Taiji Competition

On June 27, 1999, Siu-Fong Evans took home the Grand Champion Cup for Taiji at the International Taiji Legacy and Kung Fu Championship in Dallas, Texas. This USAWKF sanctioned tournament, sponsored by the Chin Woo Federation, is considered the largest international competition for Taiji in the United States.

To Qualify for the 1999 Cup, Siu-Fong competed against many masters and owners of martial arts studios, including several previous International Grand Champions. She won eight gold and two silver medals in ten different events, including taijiquan, taiji sword, and Mulan fan. Her elegance and accuracy won the admiration of many eminent judges and grand masters, who proclaimed her number one in taiji from among over 600 competitors. She attributes her success to her teachers, especially Master Xu Hongming of Beijing and Master George Young of San Francisco.
After earning her masterís degree in Chinese Language from San francisco State University, Siu-Fong founded San Diego Taiji And Qigong Association in January 1999. Its goals are to foster friendship to maintain health and happiness, to promote Chinese martial arts, and to encourage participation in martial arts competitions. In taiji, Siu-Fong practices all five major styles: Chen, Yang, Wu, Sun and Wu (Hao). She also practices Zheng Manqing style and Mulan quan.
Siu-Fong was born in Vietnam. She came to the USA as a foreign student. She has been married to Mike Evans, a college professor, since 1979. They have a daughter, Lui Guojing Evans.
Siu-Fong loves Chinese culture, devotes her time and effort to taiji, and regularly visits Guangzhou and Beijing with her daughter. She has been an exponent of the Beijing school of taiji since 1994. She concentrates primarily on the universally-standardized routines.
She teaches Chinese and taiji on the College level. In addition, she writes traditional Chinese poetry, essays, and scholarly papers. She publishes regularly in Chinese-languange newspapers and magazines in China and the USA.
San Diego Taiji & Qigong Association P.O. Box 19814, San Diego, Ca 92159-0814 Tel/Fax: (619) 463-8260
email: sdtaichi@yahoo.com www.geocities.com/sd_taichi